Case Study
Collapse Analysis of Bridge Bearings
Hyder Consulting used the LUSAS consultancy services department to analyse the collapse of fabricated steel 'trestle' bridge bearings, for the M5 road bridge at Avonmouth, UK. The objective of the project was to predict the ultimate strength of a variety of bearing structures, both with and without strengthening modifications. The final LUSAS model included geometric, material and contact nonlinear effects.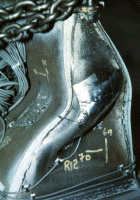 A number of initial models were created and used to assess the performance of both shell and solid element idealisations. LUSAS were fortunate to have been provided with experimental data (load-strain measurements) with which to validate the results. This allowed the effects of each type of nonlinearity to be assessed until good results were obtained for only modest CPU time during analysis. The validated model was then used as the basis for assessment of other similar structures.
LUSAS were pleased to discover very close agreement between measured and calculated values of ultimate load. The LUSAS analysis also clearly showed that the failure mode was plastic collapse; elastic buckling occurred at a much higher load.
The results of this work were used by Hyder Consulting to help determine which bearings require strengthening for the additional bridge capacity predicted for the future.