Case Study
Typical Results Plots from Detailed Dynamic Analysis of Newark Dyke Rail Bridge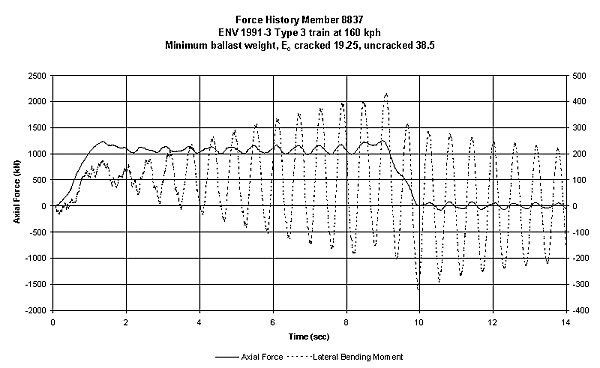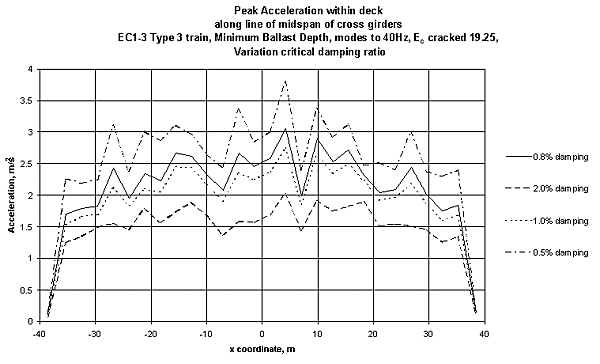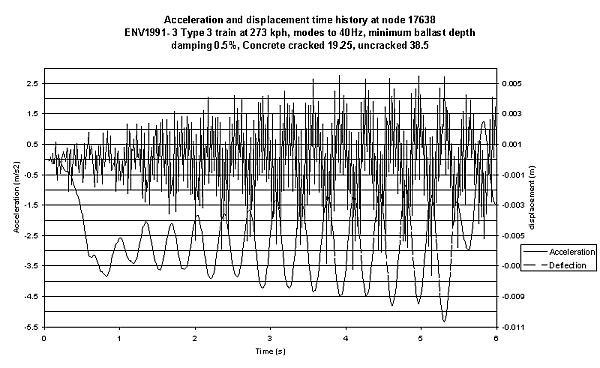 How does Interactive Modal Dynamics (IMD) work ?
An IMD analysis comprises an eigenvalue extraction (including, for accuracy, eigenvalues outside the frequency range of interest) over the frequency range of interest to determine the mode shapes, natural frequencies, and the amount of structural mass that is "active" in each of these modes (participation factors). The frequency dependent ("modal") loading data is applied to each mode in turn and the total response at any point in the structure calculated from the summation of the individual responses.
The assumption of linear structural behaviour enables the IMD facility to make use of such summation ("linear superposition") techniques. As a direct result of this, IMD is of considerable benefit when compared with traditional direct integration time-stepping procedures - in many cases results are obtained in seconds as opposed to several hours. The IMD facility therefore offers large savings in design and analysis time and greatly reduces the computational resources required for lightly damped, linear transient dynamic analysis of this nature.
For the Newark Dyke bridge, the different train speeds were defined by maintaining a consistent train motion across that bridge and simply adjusting the time interval for the modal calculations. Such moving load calculations can process a range of train speeds on each execution of the IMD facility. Results are readily obtained for either a single train speed to give full time history output or for a range of train speeds to give peak response output only.

Back to Case Study text