Case Study
Parametric design of water treatment tanks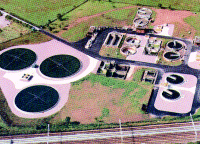 Haswell Consulting Engineers customised LUSAS Civil & Structural to analyse geotechnical problems involving soil/structure interaction. Extensive use was made of the LUSAS parametric facilities to automate the modelling and analysis of various types and sizes of ground bearing and piled water treatment tanks.
An important feature of all LUSAS products is the ability to allow engineers to automate analyses of structures having a similar layout or arrangement. This is done by creating Wizards using the in-built scripting language. After defining an initial model, the scripting language can be used convert the model data into a form for use with variable dimensions and attributes. Graphical menus and on-screen dialogs are added to allow engineers to enter data and build models of different structural dimensions and properties with the minimum of effort.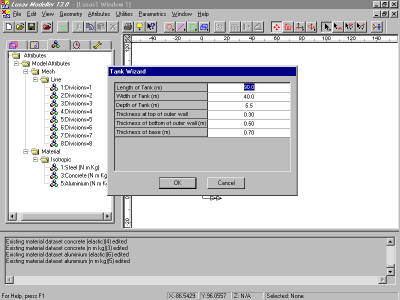 The design of underground water treatment tanks has traditionally been based on conventional hand calculation procedures which take into account the behaviour of the soil and of the structure independently. Hand calculation procedures also require three dimensional problems to be idealised in two dimensions. These two factors lead to inaccuracies in the soil/structure interaction and the effect on the structure. Parametric modelling of the soil and structure with LUSAS Civil & Structural can combine the soil and the structure in one three-dimensional model, allowing engineers and analysts with only a basic knowledge of finite element methods to create tank models, perform analyses and produce results.
With Haswell's tank designs, variables such as wall and slab dimensions, number and location of piles, concrete properties, backfill properties, and number of soil horizons are all entered via on-screen user-defined forms. Various loading conditions can be selected allowing for any number of the following:
Hydrostatic pressures from differing water levels in adjacent tank bays.
Surcharge
Uplift due to pore water pressure.
Piled foundations with a tension and/or compression capacity.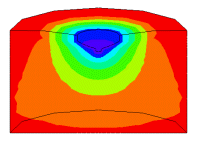 Separate results processing scripts for each tank type allow predetermined sets of results to be produced. By following another sequence of on-screen prompts the location and angle of view on the structure can be specified to give the stress plots and data output required. In a comparison with manual calculations, bending moment values obtained from both rectangular and conical tank designs showed close correlation under a range of loading conditions.
By using LUSAS for tank design many of the simplifications made in conventional analyses are unnecessary and more accurate results can be achieved. The soil/structure interaction can be investigated both globally and locally in 3D with stresses, strains, bending moments and displacements being obtained. The soil and structure can be analysed in one model with easy modification of geometry and material properties.
Dr Ala Sainak the engineer responsible for developing the range of parametric programs used said: 'The use of LUSAS parametric modelling techniques reduces the need for specialist finite element expertise and makes repetitive analyses easier to perform for less experienced users.'