Consultancy Services
Grandstand and Stadium analysis for crowd and wind loading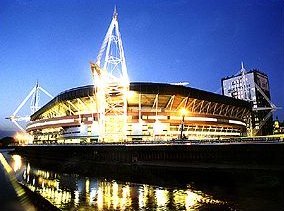 Virtually all stadiums, and in particular newer designs, are susceptible to excessive vibrations due to crowd behaviour. These vibrations are in some cases harmless, in others can cause discomfort, in major situations can cause crowd panic and in extreme situations can have the potential to cause catastrophic failure of the stadium. The effects are worsened by crowds responding in unison to music and Mexican waves etc. Stadium use may also be an important factor.
Alternative uses of these stadiums include concerts, especially rock music concerts, where a large portion of the crowd will participate in synchronised movement co-ordinated by the audible and visual stimulation being provided. The problems associated with excessive vibrations are further heightened by the current construction trends which favour stronger and lighter materials. The phenomenon has only recently been recognised and can apply to both old and newly designed stadiums. In the United Kingdom only the most recent British Standards and Guides to Crowd Safety have addressed the effect of synchronised movement of crowds and the associated dynamic loads.
LUSAS consultancy services is able to carry out detailed analysis of stadiums and integrate with testing programs in conjunction with organisations such as the Building Research Establishment. In this way unforeseen problems can be recognised in advance of a potential catastrophe and remedial action taken.

Consultancy Information
LUSAS Consultancy
What we do

---

Selected projects
Civil and Structural
Bridge engineering
Offshore, Oil and Gas
Mechanical engineering
Composites / HPM
Software customisation

---

Selected applications
Stadia checking
Seismic checking

---

General information
Quotations

---