Software Tour
Modelling in LUSAS HPM
Data defining the geometry of the composite part and tool is first imported into LUSAS in either IGES or STEP format. Once in, the HPM user interface (which has been designed in collaboration with composite manufacturers), allows tooling engineers to define all aspects of composite layup and cure simulation modelling. High-performance linear and nonlinear elements are assigned to the model along with boundary conditions, material properties and layup orientation. Temperature profiles and analysis controls must also be specified.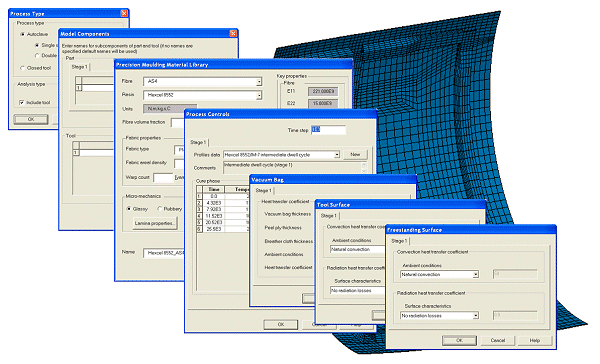 Materials database
Several materials from commercial suppliers are available. In the HPM material database the properties for resins and fibres are stored separately to allow individual selection according to use. Laminate properties are calculated from the resin and fibre data properties using sophisticated micro-mechanics equations. Weave construction details and fibre-volume fraction are also defined via the HPM user interface.
Draping
LUSAS has a built-in draping and visualisation facility. Visualisation of fibre direction and skew angles allows for detailed checking of layup orientation.
Third party interfaces
LUSAS HPM interfaces with FiberSim, which gives seamless transfer of material information in XML format. Linking of LUSAS HPM with CATIA Composites Design is possible via Simulaytís Composites Link product..
Contact modelling
LUSAS HPM offers nonlinear contact algorithms to model slip and lift off between Part and Tool during cure simulation.
| | |
| --- | --- |
| | |
| Visualisation of composite layups | Contact modelling of Part and Tool |
---