Course Summary: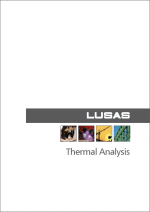 A one-day course, aimed at thermal engineers with a knowledge of the LUSAS Graphical User Interface.
The course illustrates theoretical and practical considerations of thermal analysis and consists equally of presentations and 'hands-on' sessions.
Who should attend:
Existing LUSAS users familiar with a new requirement for thermal analysis.
Course Details:
Introduction To Thermal Analysis (THM-1)

Introduces the concepts relating to thermal analysis with LUSAS.

Field analysis
Thermal analysis
Steady state linear and nonlinear analysis
Transient linear and nonlinear analysis
Field/Thermal element types
Boundary conditions and loading
Thermal material properties

Nonlinear Thermal Analysis (THM-2)

Covers all aspects of analysing nonlinear thermal behaviour in LUSAS.

External heat transfer
Conduction and convection transfer
Radiation transfer
Thermo-mechanical coupling
Coupled analysis considerations