Case Study
Quantum Cloud - Sculpture Development
Design and Analysis | On-Site Photographs | Work in Progress Files
The Artist's Vision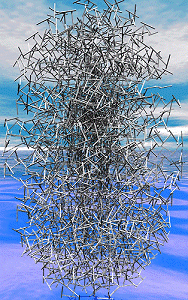 Quantum Cloud is a 30 metre high x 16 metre wide x 10 metre deep elliptical cloud made from a random matrix of 3500, 164cm lengths of square tube. Diffuse at the edges, it condenses into a 20 metre high human form at its centre. This image will be elusive, visible from some angles and not from others. The finish will be galvanised, therefore reflective, the angled sides of the members will make it highly responsive to atmospheric conditions, both of light and humidity. The outer antennae will vibrate and move in the wind. The work will rise out of an open-work grill supported by four 12 metre high cast iron columns that stand in the river adjacent to the Millennium Dome in Greenwich, London.
It represents a shift in my work, from a preoccupation with mass, volume and skin to a concern with air, energy and light. Hovering above the cast-iron caissons that were bequeathed to us by the industrial revolution, the work alludes to the transformation of classical physics and its concern with the building blocks of matter to a new quantum reality: that everything is in flux and that solid objects are an illusion.
Quantum Cloud is a project that can only be realised with digital design systems and I am very fortunate to be collaborating with energetic and ground-breaking engineers. The result, a

combination of art and technology, will be a monument to the future, expressing the potential of the human being at the end of the twentieth century.
Antony Gormley
18 October 1999
Design and Analysis | On-Site Photographs | Work in Progress Files