Software Tour
Analysis Capabilities
The unrivalled state-of-the-art element libraries, isotropic and orthotropic material models in LUSAS Civil & Structural, allow all types of civil and structural engineering problem to be solved.
Analysis capability is dependent upon the product in use. The analysis capabilities of particular LUSAS Civil & Structural software products can be extended by using software options. For details see the Product Specification.
Linear static
Stresses, strains, displacements, moments, shears and axial forces that result from static loading are easily calculated, displayed and output from any model. Loads are assumed to be applied instantaneously in order to develop the state of internal stress and transient effects are ignored.
---
Buckling
LUSAS carries out elastic critical buckling, which is required for the calculation of member resistances. Often it is also required by some codes to determine if a second-order analysis needs to be carried out. If so, a full nonlinear buckling analysis can be undertaken.
---
Fatigue

Fatigue calculations can be carried out using the total life approach. Fatigue life may be expressed in terms of the damage that is done to the structure by a prescribed loading sequence or as the number of repeats of a sequence that will cause failure
---
Dynamics
The natural frequency of structures, the effect of dynamic loading, such as crowds in sports stadiums and auditoriums, blast loading, and the response due to earthquake or impact loading can all be readily calculated.
---
Interactive Modal Dynamics (Modal superposition)
Interactive Modal Dynamics (IMD) allows the natural vibration behaviour of a structure to be combined with a loading regime in order to calculate the dynamic response of a structure to a range of applied excitations. IMD produces results an order of magnitude faster than traditional time-step solutions. Multiple and more advanced loading events (including moving loads and nonlinear behaviour) can be modelled with the IMDPlus and additional software options.
---
Nonlinear
LUSAS Civil & Structural handles geometric nonlinearity, material nonlinearity and contact nonlinearity to accurately model the structural behaviour. Local and global nonlinear analysis with LUSAS helps ensure that structures are designed economically and safely for any imposed loading. Automatic nonlinear solution procedures simplify the analysis process for applications such as:

Time-dependent dynamic analysis
Lift-off of bearings and halving joints
Bearing analysis
Elasto-plastic large deflection plate buckling
Concrete cracking
Concrete creep with recovery
Thermal loading
Impact / collapse assessments
'Push-over' analysis
Excavation and construction
Soil-structure interaction
---
Staged construction
Staged construction analysis with LUSAS provides you with the means to model the step-by-step construction or rebuilding of your structure over time and evaluate the effects of structural changes, load applications, and if required, time-dependent material changes. The complete staged construction analysis process for a model is controlled in a loadcase panel of the LUSAS Treeview. When modelling, groups of elements and associated attributes can be activated and deactivated, and supports can be introduced or removed to accurately represent each stage of construction.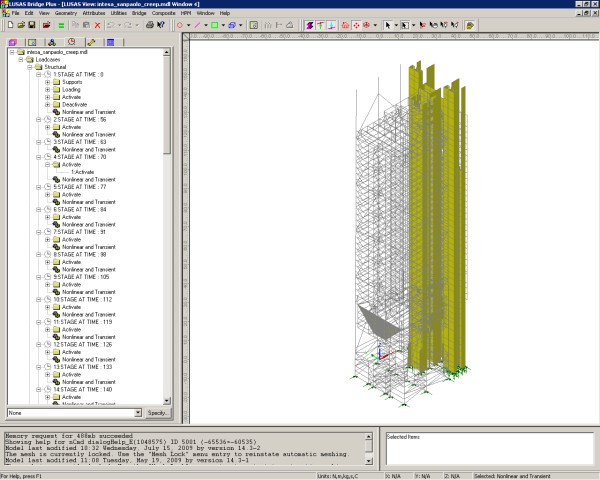 With LUSAS Civil & Structural, unlike some software, only one model file need be created and this can contain all of the information required to carry out an analysis of every stage of construction. The effects of geometric and material nonlinearity, and time-dependent material effects such as creep and shrinkage can all be included within the one analysis run.
Full staged construction modelling with beams, shells and solid elements.

Full activation and deactivation of elements.

Add or remove supports as required during the construction sequence.

Sliding bearings may be modelled using nonlinear contact (slidelines).

Support and loading facilities including temporary/traveller loads.

Apply loads anywhere onto any model.

Change loading/stress/strain over time and lock-in stresses between stages.

Prescribed displacements or jacking loads may be used as spans are completed.

Time-dependent material properties include stress related concrete creep and shrinkage for fib (formerly CEB-FIP) and Chinese model codes.

Custom time-dependent curves for particular material properties and codes.

Use single or multi-tendon wizards to define and assign tendon properties and time-stages to features of a model.

Steel relaxation, time effect on elastic modulus, tendon post-tensioning losses. from creep, shrinkage, and superimposed loads.

Cumulative effects can be reported separately for each loadcase, such as post-tensioning effects, or for the effects of just creep and shrinkage.

Incremental effects can also be specified allowing you to view and assess the net changes to the structure since the previous stage.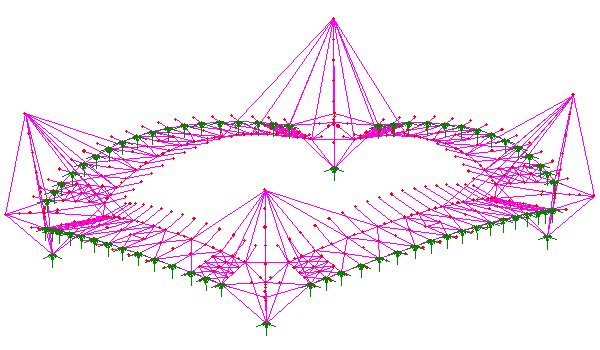 ---
Soil-structure interaction
Geotechnical capabilities make use of a range of soil models. Residual soil stress varying with depth can be accommodated providing facilities for soil-structure interaction for pile group/pilecap design. Rock joints, pore water pressure dissipation, consolidation modelling, geotechnical problems involving long term excavation, construction in clays, and temporary works can all be solved.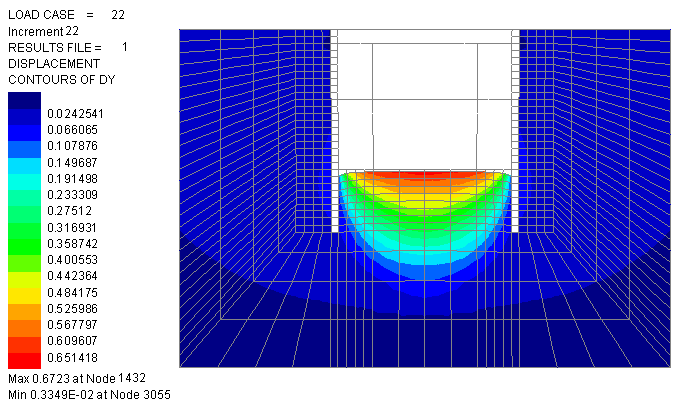 ---
Thermal / Field analysis
The Thermal / Field software option contains extensive facilities for both simple and advanced steady state, and transient thermal / field analyses. By combining the LUSAS Thermal / Field option with other appropriate LUSAS options, heat transfer due to conduction, convection and radiation can be analysed. In addition, the effects due to phase change of material may also be included. For large concrete structures such as cooling towers, dams, caissons and other large foundation bases, steady state and transient thermal analyses can be done with or without thermal-structural coupling. Modelling of heat of concrete hydration can be done for a variety of cement types using the using the Heat of Hydration option.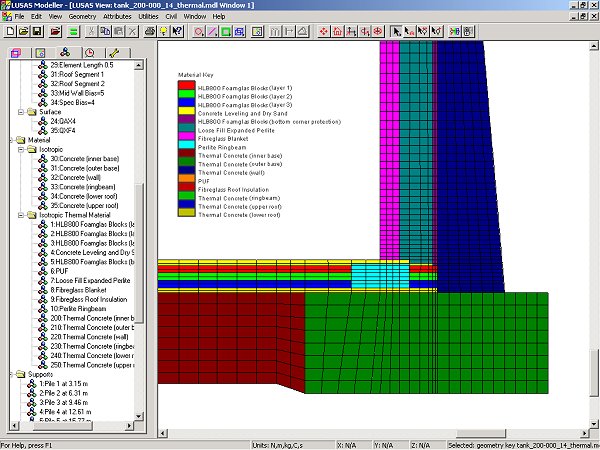 ---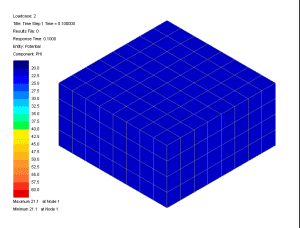 Heat of hydration
Modelling of heat of concrete hydration can be carried out for a variety of cement types using the using the Heat of Hydration software option. Effects due to the addition of fly ash and ground granulated blast furnace slag can also be included.
When used in conjunction with Nonlinear, Dynamic, and Thermal software options the heat of concrete hydration can be computed during a thermo-mechanical coupled analysis and the temperatures and degree of hydration can be read in to the mechanical analysis.

---
Faster solution times
The Fast Solver option comprises three solvers for use with particular LUSAS Bridge products.
The Fast Multifrontal Direct Solver can provide solutions several times faster than the standard Frontal Direct Solver for certain analysis problems.

The Fast Multifrontal Block Lanczos Eigensolver can, similarly, return results.
several times faster than the standard Frontal Eigensolvers for certain problems.

The complex eigensolver provides efficient solutions for large-scale damped natural frequency problems.
---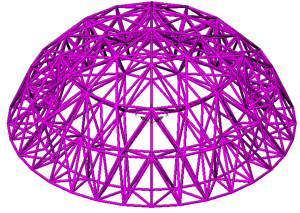 Customisation and automation
The LUSAS Programmable Interface (LPI) allows customisation of modelling and results processing tasks to your specific requirements. By using VBScript to access LUSAS facilities and functionality direct links to Word and Excel can be made for data transfer, the parameterisation of structures can be achieved, repetitive tasks can be automated, and results processing procedures can be customised.

---