Software Tour
LUSAS Civil & Structural / LUSAS Civil & Structural plus
LUSAS Civil & Structural is a world-leading finite element analysis software application for the analysis, design and assessment of all types of structures.
Whether you need to carry out a straightforward linear static analysis of a simple structural frame, a dynamic analysis of a masonry or concrete building, or a detailed geometrically nonlinear staged erection analysis of a cable stayed structure, LUSAS Civil & Structural provides all the facilities you need.
Many real-life illustrative uses of the software can be seen by visiting the civil and structural case study page.
Why use LUSAS Civil & Structural?
LUSAS Bridge provides cost-effective structural modelling and analysis (including soil-structure interaction) of any structure, in one software package.
Global and local modelling is feature-based and allows mixing of element types in the same model.
Advanced nonlinear geometry, material and contact modelling.
The software can be customised using the LUSAS Programmable Interface.
Overall, LUSAS is a long-established and trusted provider to industry leaders, and LUSAS Technical Support is stated, by its users, to be simply: "The best in the business."
---
Use it for global analysis of all types of structures...

Building frames / Space frames
Simple / complex slabs
Masts / towers
Grandstands / stadia
Storage tanks / silos
Cooling towers / chimneys
Dams
Docks / piers / jetties
Tunnels / retaining structures
Caissons / gravity base structures

And use it for:

Innovative new design
Cost-saving re-designs
Cost-effective structural assessments
Ultimate load assessments
Development of retrofit solutions
Erection and demolition engineering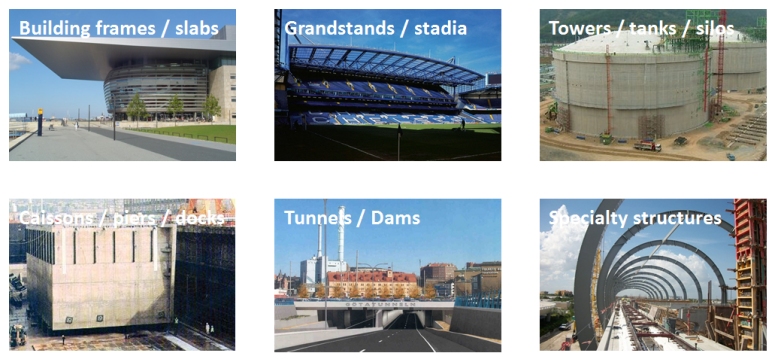 ---
Software products
LUSAS Civil & Structural is available in a choice of software levels; Civil & Structural LT, Civil & Structural, and Civil & Structural Plus to suit your analysis needs. Each uses the same Windows user interface, and has modelling wizards, comprehensive loading facilities for easy and rapid model generation, load application and combining of loadcase results for design checking.

Because all levels of the products use the same user interface and terminology, training costs can be minimised and users can be introduced to LUSAS at the most appropriate level for the work they need to do.

There is also full data compatibility across the product range allowing easy migration of a model to a more advanced analysis when required without any data conversion or remodelling.

Separate details list the capabilities of each particular software product.
---
Software options
Software options extend the finite element capabilities of particular products according to your needs.
| | | | |
| --- | --- | --- | --- |
| LUSAS Software Option availability for purchase for use with a particular Civil & Structural Software Product | | | |
| Fast Solvers | | | |
| Steel Design | | | |
| Vehicle Load Optimisation | | | |
| Steel and Composite Deck Designer | | | |
| IMDplus Analysis | | | |
| Nonlinear Analysis | | | |
| Dynamic Analysis | | | |
| Thermal / Field Analysis | | | |
| Heat of Hydration Analysis | | | |
| Rail Track Analysis | | | |
---
Global coverage and support
LUSAS software is marketed and supported globally by LUSAS and also through a network of distributors and resellers that cover every continent.
Used by thousands of users, LUSAS is highly regarded in the civil, structural and bridge engineering industries, as demonstrated by an impressive list of clients, which include many of the top international consultancies. LUSAS is also used extensively by government agencies, local authorities and smaller to medium-size consultants, many of whom find that the advanced analysis facilities not only expand their capabilities but also give them a competitive edge.
Universities and research institutions use the academic version of LUSAS, which provides a steady supply of proficient LUSAS users to support your use of the software in your industry.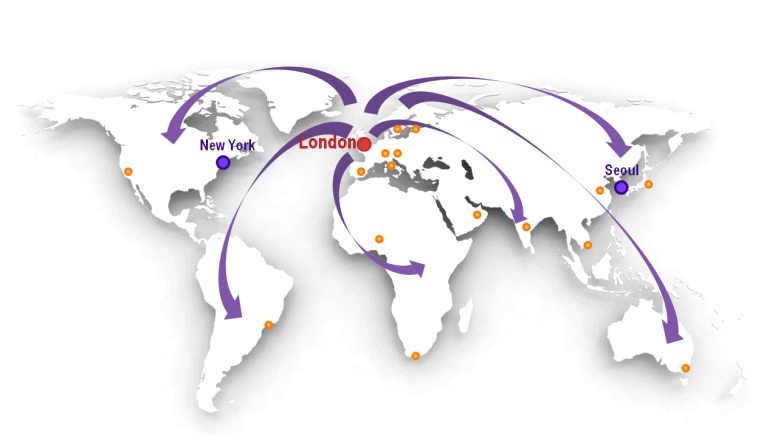 ---
Continue the tour...
Continue to Modelling with LUSAS
---
Find out more
---
Share this page
---