Software Tour
Loading Types and Load Combinations
LUSAS Civil & Structural provides a comprehensive range of general loading types to cater for most circumstances. Envelope and load combination facilites help you get the most from your results.
General load types
Structural loadings include gravity, concentrated, distributed, face, temperature, stress/strain, and beam loads.
Prescribed loading options allow initial displacements, velocity or acceleration to be specified.
Discrete loads distribute a loading pattern over full or partial areas of the model.
Load trains can be created using a compound load facility.
Thermal loads describe the temperature or heat input for a thermal analysis.
Structural, prescribed and thermal loads are feature based loads that are assigned to the model geometry and are effective over the whole of the feature to which they are assigned. Discrete loads are feature independent.Variations in loading can be applied to all feature load types according to the feature on which they have been assigned.
Single and Multiple Stage Prestress and Post Tensioning
Single and multiple tendon prestress wizards in LUSAS calculate equivalent nodal loading due to tendon prestressing or post-tensioning and assign these forces automatically to the elements within a model. Computation of tendon forces can be carried out in accordance with various regional codes including AASHTO, Eurocode, China and others. A multiple tendon prestress wizard for staged construction analysis takes into account elastic shortening due to stressing of other tendons according to the design code used or to user-defined percentage losses.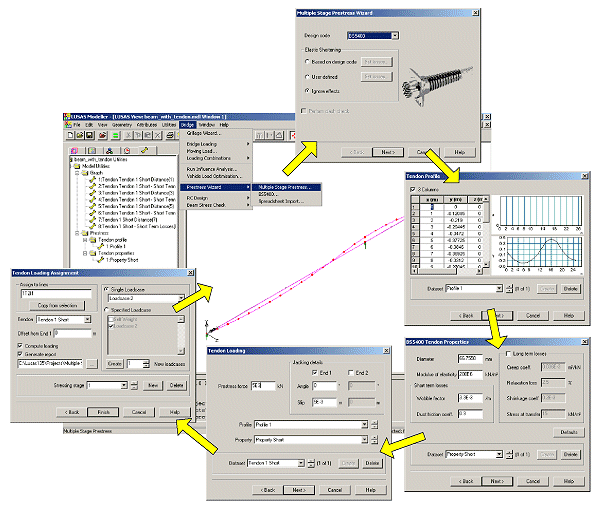 | | |
| --- | --- |
| | |
The ability to input many hundreds of tendons in one analysis that can be assigned to many hundreds of loadcases is made easy by the use of the multiple stage prestress wizard. Through a series of dialogs, the wizard simplifies the definition of tendon profiles and properties.
Elastic shortening losses can be specified for multiple stressing stages – useful for staged construction. Locally defined tendon profiles can be used anywhere in the model and any number of times. One very useful feature allows the tendon profile to be viewed in real-time as it is defined. Tendon material properties including short and long term losses can be specified.
The tendon can then be easily assigned to one or more line features on the model and, more importantly, to one or more loadcases at the same time.
Envelopes and Combinations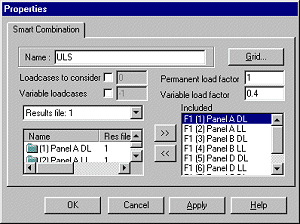 Basic, Smart and Code-specific load combination facilities are a key feature of LUSAS Civil & Structural and allow manual or fully automated assembly of design load combinations. From these, envelopes, contour and deflected shape plots, and results graphs can be readily obtained for any loadcase under consideration.
Basic load combinations allow for manual definition of loadcases and load factors.
The Smart Combinations facility, unique to LUSAS Civil & Structural, automatically generates maximum and minimum load combinations from the applied loadings to take account of adverse and relieving effects, saving time and reducing the chance of errors.
When used in conjunction with a design code template, combinations of load combinations are automatically created to give maximum and minimum Ultimate or Servicibility Limit State loadcases.
---

Software Information
Civil & Structural / Civil & Structural plus
Software overview
Modelling with LUSAS
Advanced elements, materials and solvers
Load types and combinations
Viewing results
Analysis capabilities
Software customisation

---

Civil & Structural LT
Software overview

---

Choosing Software
Software products
Civil & Structural LT
Civil & Structural
Civil & Structural Plus
Software selection

---

Software Options

---

Case Studies

---

Selected Applications
Concrete modelling

---

General Information
Hardware specification
Licencing and networking options
Software prices
Documentation
Links page

---