Course Summary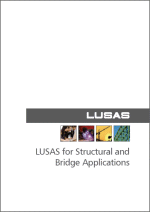 This 3-day course is for engineers with little or no prior knowledge of LUSAS or for those wanting to refresh their knowledge of carrying out linear static and linear buckling analysis for structural and bridge applications. The course covers getting started with LUSAS and then proceeds to cover in detail the modelling and analysis options available for creating beam models, modelling flat slabs, composite construction, 3D modelling, and in correctly applying the various types of bridge and structural loading available.
Training is provided in a tutor-led classroom environment and includes both tutor-led and standalone workshop examples to illustrate and build-upon the points covered during presentation sessions. The in-depth examples go into far more engineering detail than those provided in the LUSAS examples manuals and provide answers and practical engineering guidance to the following:
Modelling: Why has a certain modelling approach been adopted?, assumptions, limitations etc.
Feature geometry: Why features have been defined in a certain way?, units, orientations etc.
Mesh: What elements are used and why?, limitations, alternatives, connectivity issues, orientations, end releases.
Geometric attributes: How they have been calculated and why?, use of eccentricities etc.
Material attributes: Where they have been obtained from?, limitations etc, including calculation of any joint stiffnesses etc
Support attributes: Description of and, where necessary, reasoning including calculation of any spring stiffnesses used.
Loading attributes: Description of and, where necessary, reasoning including calculation of intensities or references etc.
Checking: Steps to take, loadcase, reactions, deformed shape, magnitude of deformations, warnings, mesh refinement.
Example results: How were they obtained?
Conclusions: Any refinements or adjustments which might be made.
On successful completion of the course and with subsequent experience delegates should be able to successfully tackle most types of linear static structural analyses that are encountered in mainstream structural and bridge engineering.
Who should attend ?
New, or less experienced users of LUSAS.
Course Dates
| | | | | | |
| --- | --- | --- | --- | --- | --- |
| Course Type | Dates | Location | Duration | Cost (GBP) | Booking |
| Introduction | 12-14 May 2020 | Kingston upon Thames, UK | 3 days | £475 | Course cancelled |
| Introduction | 21-23 July 2020 | Kingston upon Thames, UK | 3 days | £475 | Course cancelled |
| Introduction | 10-12 November 2020 | Kingston upon Thames, UK | 3 days | £475 | Not yet available for booking |
Some delegate feedback from recent LUSAS training courses:
"This class was excellent and one of the best training courses that I have taken." (Tim E.)

"Very good demonstrations/teachers with a good variety of hands on examples." (Douglas R.)

"The instructor was phenomenal! Engaged, energetic, helpful and friendly! Could not have asked for a better one." (Joe K.)
---
Course Content:
Day 1:
Getting started with beam models
About LUSAS, finite element analysis, geometry, attributes, the LUSAS treeview, section property calculators, viewing results, checking models
Examples: Truss roof or bridge; Concrete arch bridge structure.
Getting started with surface models
Creating surface geometry, more advanced loading options (including vehicle loading), combinations and envelopes, results display and processing (including contours, Report Writer, and graphing facilities), lift-off supports.
Examples: Flat slab bridge deck; Building floor or Wingwall.
---
Day 2:
Introduction to 3D modelling
Creating 3D geometry. 3D elements (beams, shells, volumes), element selection, linear and quadratic order, mesh refinement.
Examples: Circular tank; Box girder bridge or Abutment with wingwalls.
Beam and slab construction
Mixing elements; connectivity including eccentricities, constraint equations, joints and slidelines. Composite moments.
Examples: Concrete beam & slab deck; Concrete beam & slab building floor.
---
Day 3:
Bridge facilities
Grillages, traffic load optimisation, moving loads, temperature loads, slab designer, prestress wizard.
Examples: Grillage with TLO; line beam with Prestress wizard.
Buckling
Eigenvalue buckling and nonlinear buckling. Use of analysis controls.
Example: Plate girder buckling using 3D shell modelling.