Software Tour
LUSAS Bridge / Bridge Plus Overview
LUSAS Bridge is a world-leading finite element analysis software application for the analysis, design and assessment of all types of bridge structures.
Whether you need to carry out a straightforward linear static analysis of a single span road bridge, a dynamic analysis of a slender Ďarchitecturalí steel movable footbridge, or a detailed geometrically nonlinear staged erection analysis of a major cable stayed structure involving concrete creep and shrinkage, LUSAS Bridge provides all the facilities you need. Many illustrative uses of the software can be seen by visiting our bridge engineering case studies page.
LUSAS Bridge is available in a choice of software levels; Bridge LT, Bridge, and Bridge Plus to suit your analysis needs. Each uses the same Windows user interface, and has modelling wizards, comprehensive vehicle loading and Smart Combination facilities for easy and rapid model generation, load application and combining of loadcase results.

Because all levels of the products use the same user interface and terminology, training costs can be minimised and users can be introduced to LUSAS at the most appropriate level for the work they need to do. There is also full data compatibility across the product range allowing easy migration of a model to a more advanced analysis when required without any data conversion or remodelling.
Extensive results processing, viewing and report generation facilities give you ultimate control over what you plot and print from your analysis. In short, LUSAS Bridge software handles simple grid/grillage and slab structures with ease and has a full range of additional software options and features for more advanced bridge structures.
Use for all bridge types:

Slab decks
Slab / beam decks
Composite decks
Straight or curved plate girders
Masonry arches
Integral bridges
Truss bridges
Ribbon bridges
Movable bridges
Cable stayed bridges
Suspension bridges

Use for:

Innovative new design
Cost effective bridge assessments
Cost-saving re-design
When design codes canít be used
Ultimate load assessments
Development of retrofit solutions
Erection engineering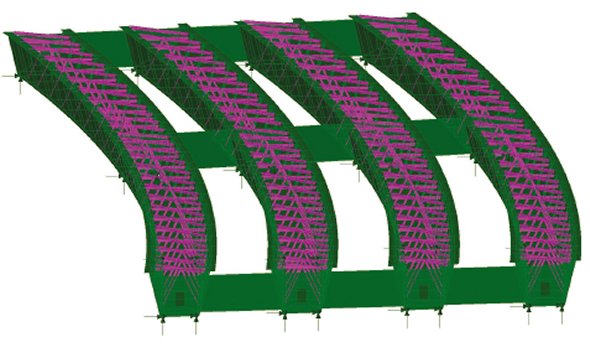 Increase Your Efficiency
Used globally, LUSAS is highly regarded in the bridge industry, as demonstrated by an impressive list of clients including many of the top international consultancies. LUSAS is also used extensively by government agencies, local authority bridge departments and smaller to medium-size consultants, many of whom find that the advanced analysis facilities not only expand their capabilities but also give them a competitive edge.
Whether for optimising new designs or providing accurate and cost-effective load rating assessments of existing structures, LUSAS Bridge provides a complete solution. As a result LUSAS Bridge is seen to be the prime choice for organisations wanting to increase their efficiency by using state-of-the-art software and standardising on a single product for all their analysis needs.
---