Consultancy Services
Selected Civil and Structural Engineering projects
Client confidentiality prevents some projects from being identified fully.


Wind and crowd loading assessments for stadiums and grandstands

Nonlinear analysis of cable stayed telecommunications masts and other tension structures

Modelling and analysis of both local and global behaviour of architectural glazing systems including glass facade connection detail analysis on a major UK museum

Nonlinear soil structure interaction (SSI) analysis of incremental backfill and surcharge on flexible culvert

Static, thermal and seismic response analysis of reinforced concrete and mass concrete dams


"Quantum Cloud" - Sculpture requiring rapid development of novel, advanced, integrated CAE methods for design, structural analysis, manufacture and construction

Analysis of slipformed reinforced concrete slot drains for airport use

Seismic analysis of penstock gates for nuclear installation

Dynamic SSI analysis of foundations for pilot centrifuge

Structural analysis of water/sewage treatment tanks, including SSI effects


Nonlinear dynamic soil-structure interaction analysis of dock walls and associated structures to demonstrate nuclear safety under extreme seismic loading.

Structural analysis of floating reinforced concrete troughs forming approach structures for a tunnel, Ireland

Stress analysis of stainless steel castings for a major German institution

Stress and fatigue analysis of penstock support for hydro power installation


Dynamic and seismic analysis of a cantilevered glass canopy

Dynamic response assessment of foundations and support frames for rotating machinery

Seismic response analysis of multi storey buildings

Seismic analysis of a compacted mass concrete dam, Jordan


Nonlinear structural and Soil Structure Interaction (SSI) analysis of 55m diameter RC clinker store

Crowd excitation assessment of a major Welsh stadium

Large scale 3D analysis of reinforced concrete water retaining structures under seismic loading. Full lift-off, sliding and SSI effects considered

Cable/fabric tower analysis

Analysis of large LNG storage vessels


Static, thermal and stress analysis of Muela Dam, Lesotho

Slab and wall analysis for a major science centre

Static, wind and dynamic assessment for a cooling tower, Turkey

Slab and wall analysis for an underground swimming pool

Cross passage for an Irish road tunnel


Core wall analysis for University College London Hospital

LNG concrete containment tank analyses including thermal, spillage, 2D static, 3D static and bottom-corner inner-tank with nonlinear contact.

Staged construction modelling of a SMART tunnel

Clinker store, homogenising silo and kiln foundations for a cement works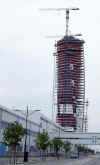 Contact analysis of a pinned jointed steel supporting tube for a 54 floor residential building, Sweden

Offshore turbine modelling

Dock caissons, South Korea