Online training information
| | | | |
| --- | --- | --- | --- |
| Sessions presented using | Session length | After session offline self-study required | Training certificates |
| GoToWebinar | 90 to 120 minutes | 45 to 60 minutes | Issued on successful completion |
Notes
Training sessions are provided using the GoToWebinar web conferencing facility. You can join each training session up to 10 minutes before the scheduled start time. They will start promptly.

Training sessions are a mix of PowerPoint presentation and live demonstration of LUSAS.

Delegates do not undertake any hands-on examples during each session, but examples that cover the concepts introduced are provided for download and use by delegates after each session. These examples will take between 45 and 60 minutes of offline self-study to complete. Email support is available from the lecturer to assist with these examples if needed.

Session presentations can be downloaded from a training course event page and printed off if required.

Delegates are able to ask the lecturer questions during the training session via the chat tool or afterwards via email.

Sessions are recorded and links to recordings will be provided to delegates to allow viewing if a session is missed.

Training certificates are provided to those who successfully complete the series of worked examples and pass the quiz set after each session.

Registration for Session 1 is a requirement to attend all subsequent sessions.
---
LUSAS software version
LUSAS version 20 will be used to present this course and is also required to undertake any offline homework examples.
Accessing LUSAS
Individuals who wish to attend the training who do not have access to the required version of the software may request a temporary training licence from LUSAS to allow the running of the software on their personal computers. After booking your place on the course, please contact training@lusas.com to request a licence stating your name and details as asked for on the booking form.
Downloading LUSAS
LUSAS may be downloaded either as an ISO file, or as a small startup executable. Use whichever is better or works for you.
Options for downloading LUSAS Version 20
ISO file

OR

Web installer
Download a single disk image file containing all installation components.

Select this option for offline installation on one or more PCs.

Download a small setup executable which allows you to choose those components that you wish to download and install.

Select this option for online installation on a single PC.
Please contact onlinetraining@lusas.com if you have any questions relating to the licence key sent to you.
---
Typical Course Content
---
Session 1 - Introduction to Grillage Analysis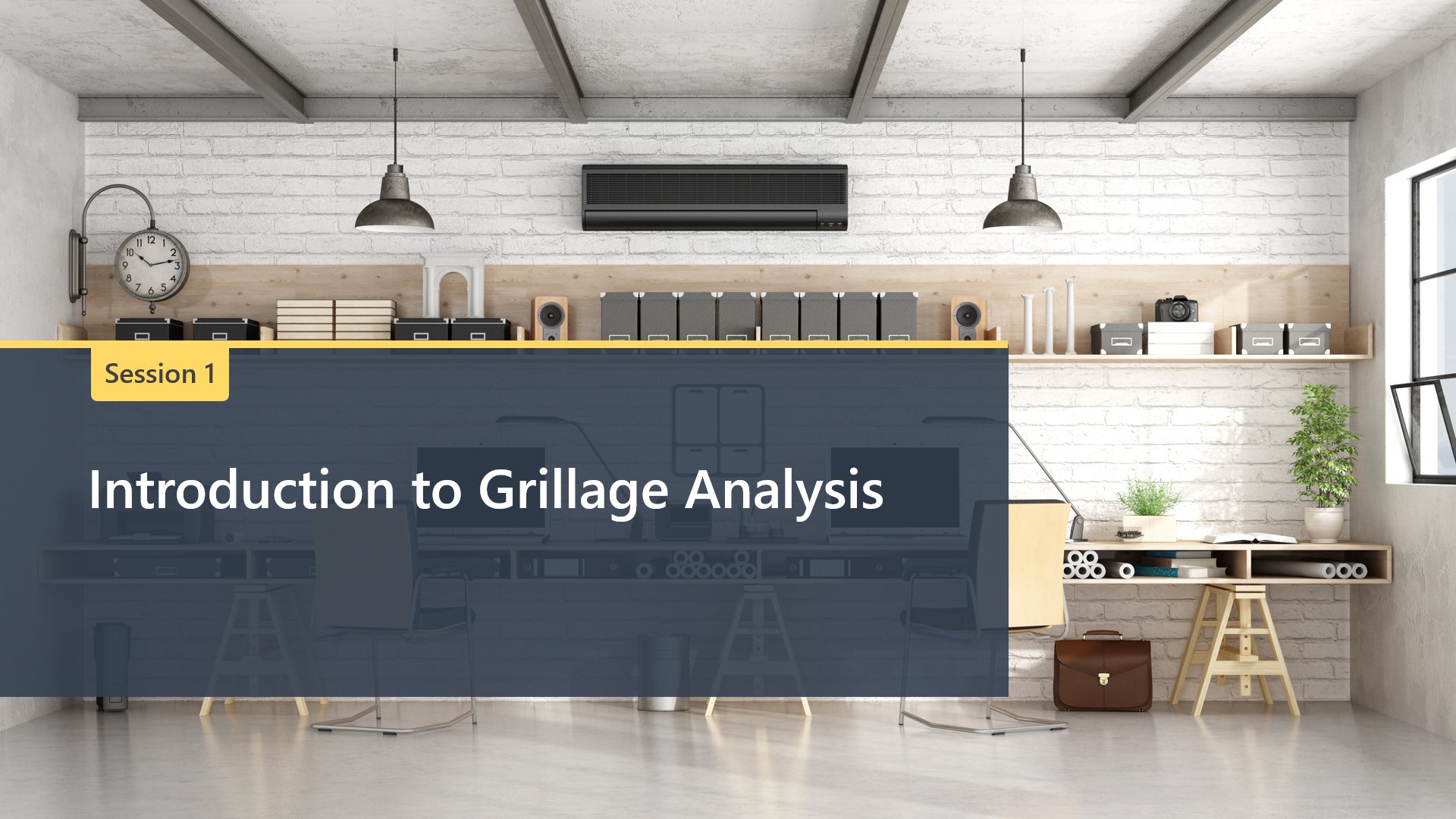 Learn how to undertake a simple grillage analysis with the use of basic examples not complex theory.
Overview of the basic concepts of grillage analysis (layout, dimensions, spacing, skews, etc).
Efficient data preparation focusing on section properties.
Use of multiple analyses to consider short and long term properties.
Effective application of highway or rail traffic loads.
Presentation and homework example: Concrete slab deck with highway traffic loading.
Online quiz to complete the session.
Download session handouts (when made available)
| | | | |
| --- | --- | --- | --- |
| | | | |
| Training Presentation | Homework Example | | |
| | | | |
---
Session 2 - Advanced Grillage Analysis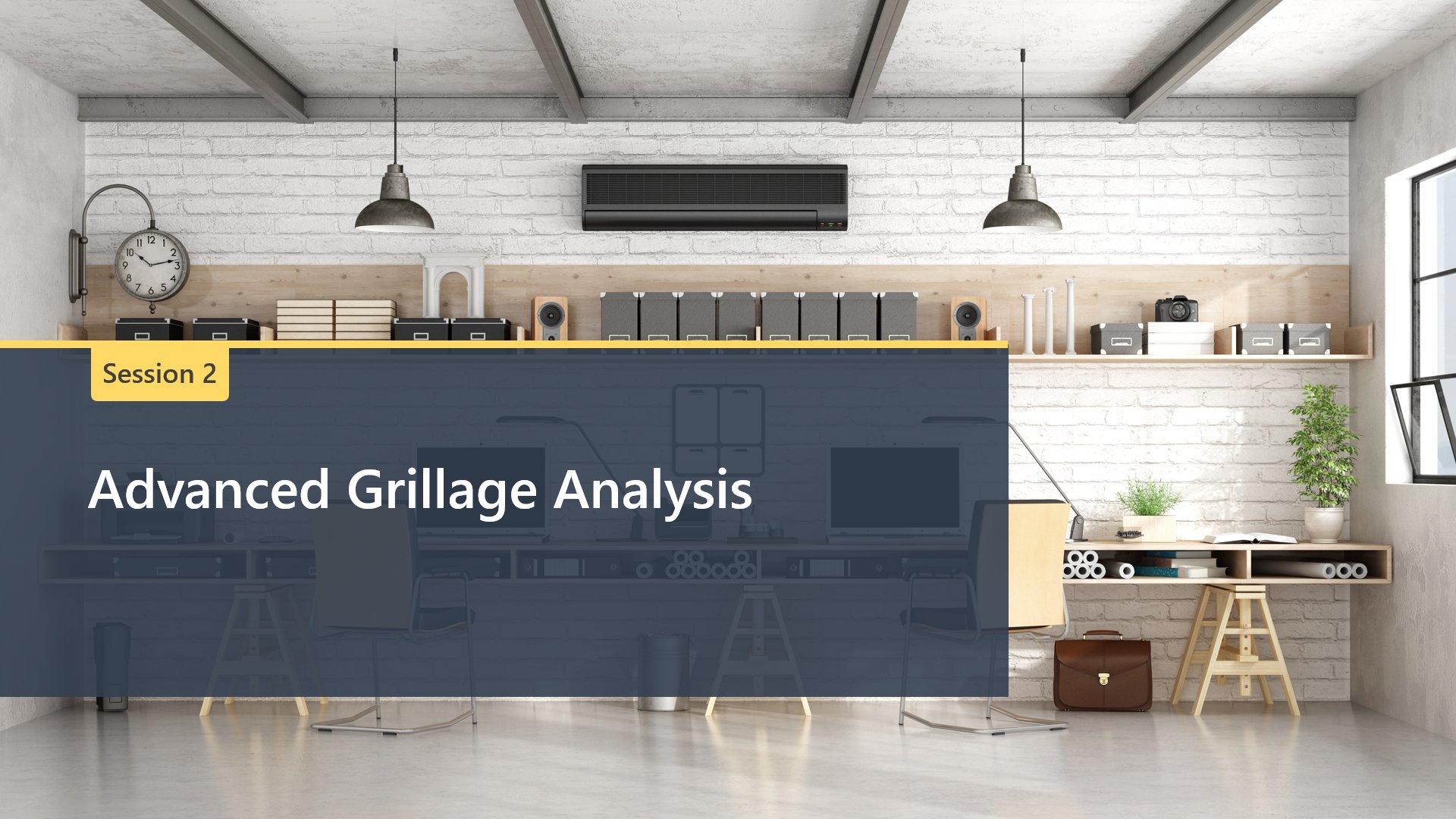 Having gained basic knowledge of grillage analysis, this session will provide details on how to analyse more complex structures.
Building on session one, more complex bridge structures, such as multi-span composite bridges and box bridges will be discussed, covering how they can be modelled.
When grillage analysis is appropriate and when limitations would require more advanced analysis
How to incorporate bracing into the grillage model.
Understand how to efficiently consider and incorporate a staged consruction process into the analysis model
Presentation and homework example: Multi-span composite bridge with bracing.
Online quiz to complete the session
The quiz for session 2 will be made available shortly.
Download session handouts (when made available)
| | | | |
| --- | --- | --- | --- |
| | | | |
| Training Presentation | Homework Example | | |
| | | | |
---
Tell us what you thought
When you have completed the course, help us to assess it and plan future online training courses.