Software Tour
Viewing results
LUSAS Civil & Structural has a host of easy to use results processing and viewing facilities to help you get the most from your analysis.
View results for all or selected parts of a model using separate layers for diagram, contour, vector and discrete value data.
Select loadcases individually for each view window, and display multiple views of the model, with each window showing results for different loadcases.
Manually specify basic load combinations, defining loadcases to be included and load factors to be used.
Use Smart Combinations to generate maximum and minimum results, taking account of adverse and relieving effects, substantially reducing the number of combinations and envelopes required.
Define envelopes of multiple loadcases to provide maximum and minimum results.
Use design-code based combinations to assess ULS or SLS combinations.
Plot bending moment and shear force diagrams and visualise structural deflections.
Control contour ranges and vector/diagram scales individually for each view window, or set globally to apply to all view windows.
Display results in global or local directions, in element directions, or at any specified orientation.
Plot results on deformed or undeformed mesh plots and on fleshed or unfleshed beam sections.
Cut multiple slices through 3D solid models on arbitrary planes and make them visible or invisible in any window.
Selectively output results to spreadsheet applications for additional calculation and graphing uses.
For concrete modelling, plot crack width contours, crack patterns and values for supported design codes.
Use inspection locations to obtain results for user-defined positions of interest on a model.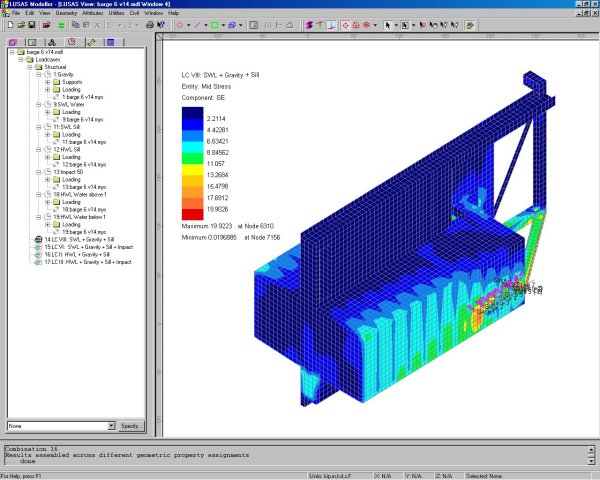 Graphing
Use the step-by-step graph wizard to select results data to be drawn on a graph. Arbitrary line sections may also be taken through any surface model or on a slice cut through a three dimensional solid model.
Animations
Animate the results - particularly useful for viewing mode shapes, assessing structural response to moving loads and seismic events, and for investigating the spread of concrete cracking or yielded material. Save animations as AVI files for use in other Windows applications.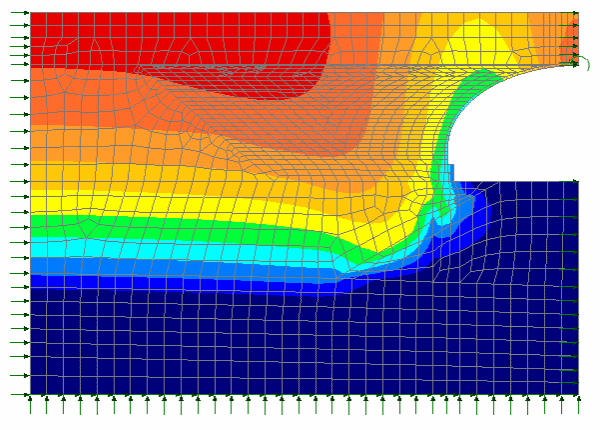 User defined results calculator
Use the in-built 'spreadsheet-style' user-defined results calculation facility to include LUSAS model and results parameters in arithmetic expressions to create user-defined results components. Unlike external spreadsheet calculations, because all calculations are done inside LUSAS and based upon current model and results data, the values obtained can be automatically be recalculated at the press of a button if the model data is edited, or if results change.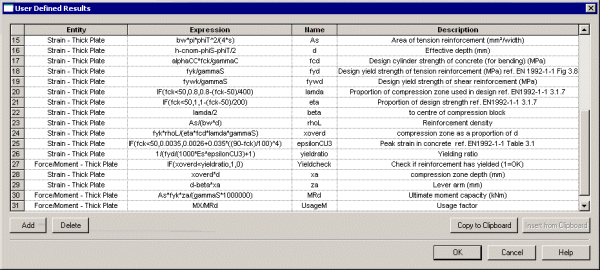 After definition, the user results components created can be selected by name from the Component drop-down list on the Contours, Values, and Diagrams layers properties dialogs. All standard LUSAS results processing, viewing, animating, graphing, printing and report capabilities can be used with any user-defined results components.
Construction tables
Produce camber, displacement history, and incremental displacement results tables for selected model locations to assist with staged construction work.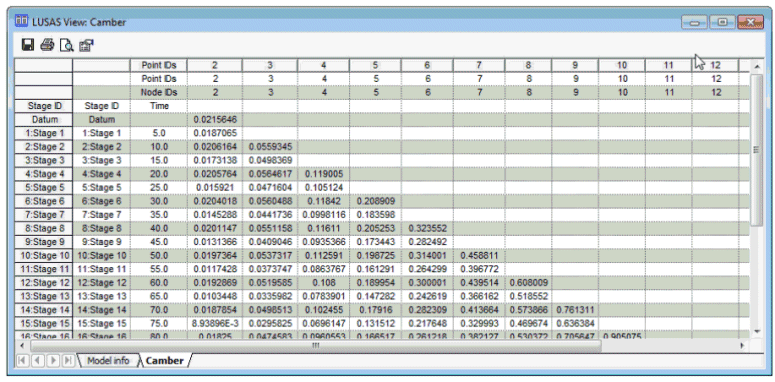 Printed Results
Tabulate results values for individual results components and entities using the Print Results wizard. Transfer the data to other applications using standard Windows copy and paste operations. Print model and results views directly, or save as high resolution BMP, JPG, or WMF files, or copy and paste direct into other applications.
Report generator

Create one-click reports for selected members, and select general modelling, loadcase and results data on an element, feature type, group, and loadcase basis for inclusion in a main model report, Screenshots, saved images, graphs and one-click reports can also be included.

Each time a report is created, up-to-date modelling and results data is used to ensure compatibility at all times.

Export report data to Excel spreadsheets as well as into other formats including PDF, HTML and RTF (for use in Word) for quality assurance, model checking, and results listing purposes.
Output to 3rd Party Software
Save or copy the contents of a model view window for use in creating reports in applications such as MS Word. Export results for use in spreadsheet applications such as MS Excel where additional graphing or calculations can be carried out.
Continue the tour...
---
Find out more
Software Information
Civil & Structural / Civil & Structural plus
Software overview
Modelling with LUSAS
Advanced elements, materials and solvers
Load types and combinations
Staged construction
Geotechnical /
Soil-structure modelling
Analysis capabilities
Design code facilities
Viewing results
Software customisation

---

Civil & Structural LT
Software overview

---

Choosing Software
Software products
Civil & Structural LT
Civil & Structural
Civil & Structural Plus
Software selection
Software options

---

Case Studies

---

Videos

---

Selected Applications
Concrete modelling
Soil-Structure Interaction Modelling
LUSAS Programmable Interface

---

General Information
Hardware specification
Licencing and networking options
Software prices
Documentation

---