Software Specification
LUSAS Civil & Structural LT
A structural analysis system for linear static stress analysis of structural frames and grillages.

Analysis capabilities:
Linear static stress analysis
Improve solution speed and with this purchased option:
And when used with these purchased LUSAS Civil & Structural software options also allows:
Steel frame design
RC frame design
See below for more details.
---
Comprises:
2D Grillage
2D and 3D Structural Bars
2D and 3D Engineering Thick beams
Integrated Windows user interface for Vista, 7, 8, 8.1, 10
Single model and results viewing window
Supplied startup templates
User-defined start-up templates
Working and page layout modes
Dynamic model rotation, pan, zoom and isometric viewing

Geometry

Point and line geometry creation facilities
Point and line measurement facilities
Group facility
Associative geometry / assigned attributes
Multi-level undo / redo

Attributes

Line mesh creation
Standard steel section libraries for selected countries
User-defined line geometric properties
Tapered beam sections
Fleshing of members
Isotropic material libraries
User-defined isotropic materials
Structural supports including free, fixed and spring
Structural loadings including concentrated, body force, global and local distributed, temperature, internal beam point and distributed loading, prescribed displacement loading, discrete point and patch loading
Local coordinate facility

Utilities

Annotation facility
Drag and drop assignment of attributes
Transformation facilities including translate, mirror, scale, rotate etc
Loadcase creation
Results envelopes
Basic and Smart load combinations
Graph wizard with automatic updating
Animation of deformed shape
Print Results Wizard
Section library management
Standard section property calculator
One-click report facility
Report generation with automatic updating
Saved views
Fast solving capability

Civil & Structural specific features

Result viewing

Viewing of results for all or selected parts of model

Deformed mesh plots

Contours of displacements, moments or forces using line contours or colour fill on fleshed or unfleshed members

Bending moment and force diagrams for beam elements with optional peak values displayed

Beam stresses at beam fibre locations

Peak results value display

Stress vector plots

Graph plotting with export to standard spreadsheet packages

Animate deformed shape

Results window summaries
Copy and paste of results plots to other applications

Printing and plotting of results for all or selected parts of model
---
LUSAS Civil & Structural LT software options
Available for purchase to Improve solution speed:
Fast Multifrontal Direct Solver
Fast Multifrontal Block Lanczos Eigensolver
Complex Eigensolver
Fast Parallel Direct Solver
Fast Parallel Iterative Solver
---
Available for purchase to increase the analysis and design capabilities of LUSAS Civil & Structural LT:
Design code-based results visualised as Utilisation ratios on members
Design summary results produced for selected members and loadcases
Generate formatted design reports, showing calculations made and referencing clauses and equations from chosen code.
Design checking of regular and arbitrary shaped reinforced concrete members subject to bending and axial force.
Design code-based results visualised as Utilisation ratios on members
Produce a tabular summary of results for selected members and loadcases, view detailed results and generate interation diagrams.
---
LUSAS Civil & Structural LT upgrade options
LUSAS Civil & Structural - for linear static stress analysis, linear buckling, natural frequency analysis, linear dynamics including forced response, Interactive Modal Dynamics, and fatigue analysis.
LUSAS Civil & Structural plus - for nonlinear, dynamic and field/thermal analysis problems
---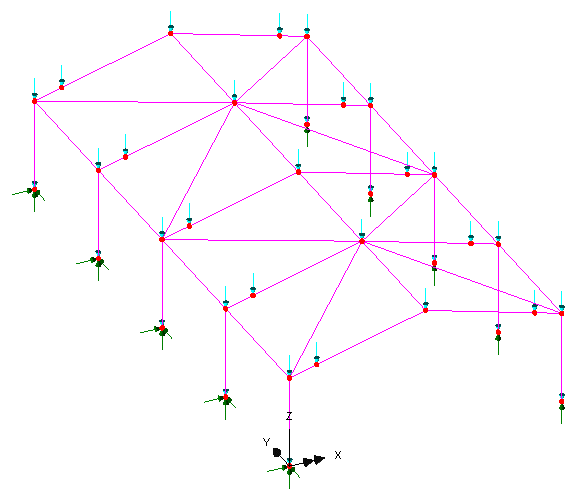 LUSAS Civil & Structural specification
---
Find out more
Software Information
Civil & Structural / Civil & Structural plus
Software overview
Modelling with LUSAS
Advanced elements, materials and solvers
Load types and combinations
Staged construction
Geotechnical /
Soil-structure modelling
Analysis capabilities
Design code facilities
Viewing results
Software customisation

---

Civil & Structural LT
Software overview

---

Choosing Software
Software products
Civil & Structural LT
Civil & Structural
Civil & Structural Plus
Software selection
Software options

---

Case Studies

---

Videos

---

Selected Applications
Concrete modelling
Soil-Structure Interaction Modelling
LUSAS Programmable Interface

---

General Information
Hardware specification
Licencing and networking options
Software prices
Documentation

---