Software Tour
Design code facilities
Eurocodes
For steel and concrete bridge design to Eurocodes, LUSAS provides the means to carry out:
Traffic loading to EN1991-2
Member resistances to EN1993
2nd order analysis for EN1993/4
Pedestrian dynamics to EN1990
Thermal actions to EN1991-1-5
Combining actions to EN1990
Execution analysis to EN1991-1-6
Steel design checking to EN1993-2: 2006 Eurocode 3: Design of steel structures - Part 2: Steel Bridges.
Steel and Composite deck design to Eurocodes
Slab design to Eurocode EN1992-1-1 and EN1992-2
Other codes
Vehicle load optimisation, slab design, prestress and post-tensioning, and concrete creep and shrinkage calculations are carried out in accordance with a variety of design codes, including Eurocodes. See below for more details.
---
Traffic loads to EN1991-2
National Annexes supported in the Vehicle Load Optimisation facility include those for the UK, Ireland, Italy and Sweden. Nationally Determined Parameters and the appropriate LM3 (special vehicles) for each country are included. A "recommended values" option is also available (incorporating Annex A vehicles). In all cases there is flexible selection of the special vehicles. Psi/alpha factors may also be modified.

Characteristic, Combination and Frequent cases can be generated with a single analysis. Suitable defaults are set, but the load groups to be included may be modified.

Eurocode traffic loads (including rail traffic loads) are available in a vehicle library. These may be used in any static or dynamic analysis, moved over the structure in convoys, arranged to any required pattern, and readily combined with other actions.
See Load types and combinations for more details.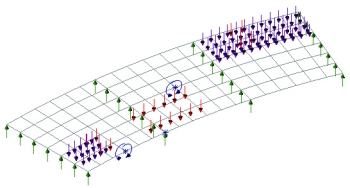 ---
Member resistances and 2nd order analysis
Elastic critical buckling load can be determined directly from an eigenvalue buckling analysis in LUSAS enabling the calculation of member resistances to EN1993 clause 6.3. The eigenvalue buckling analysis also enables an assessment of the importance of 2nd order effects, and if deemed to be important these may be obtained by carrying out a geometrically nonlinear analysis.
LUSAS allow buckling analyses to be carried out on structures idealised using beams, plates, shells, or solids or any combination. Material nonlinear effects (yielding or concrete cracking) and boundary nonlinear effects (lift-off, tension-only members etc.) can also incorporated. Animations, contours, diagrams and load / displacement graphs can be viewed for selected nodes.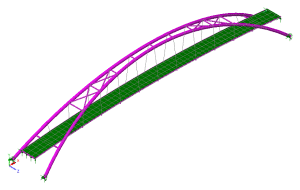 ---
A LUSAS model that is used to determine natural frequencies for the simple criterion in EN1990 clause A2.4.3.2(2) can be easily updated to include dynamic actions. Nonlinear behaviour (such as tensioning-stiffening associated with the use of cables) can also be incorporated.
The LUSAS pedestrian load wizard creates the necessary moving and varying-magnitude load, based on input such as the recommended Bridge class (NA to EN1991-2, Table NA.7). Its use:
Simplifies and automates pedestrian load generation

Generates all loadcases to model the passage of pedestrian groups

Provides results that can be printed, exported to spreadsheets, or graphed
Pedestrian types (walking or joging/running) control the reference load and speed of the moving pulsating load representing the pedestrian or pedestrian group. Both forward and reverse moving loading is possible. Graphs of loading can be automatically created.
Results can be printed and exported to spreadsheets or graphed using standard graphing facilities to assess, for example, the acceleration or displacement at a selected node against time.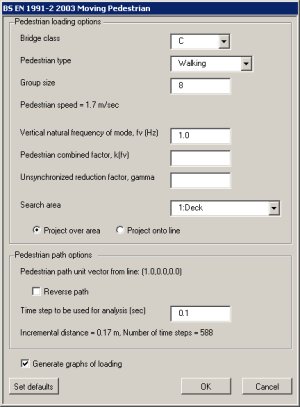 ---
Vehicle Load Optimisation
Country design codes currently supported by the Vehicle Load Optimisation software option include:
Australia: AS5100-2: 2004, AS5100-7: 2004 (Austroads)
Canada CAN/CSA-S6-06 (Design)
China: JTG D62-2015
Denmark: DS/EN 1991:2 DK NA:2015
Europe: EN1991-2 Recommended values
Finland: LO 24/2014
Ireland: EN1991-2
Italy: EN1991-2
New Zealand (Transit New Zealand Bridge Manual)
Norway: NS EN1991-2.2004 NA 2010 + NA-rundsskiv 07-2015
Poland: EN1991-2
Saudi Arabia: MOMRA Bridges Design Specifications
Sweden: EN1991-2 (2009), EN1991-2 (2011), TDOK 2013:0267 Version 3.0
South Africa: TMH7
United Kingdom: EN1991-2, BA34/90, BD21/01 including Annexes D and E, BD37/01 (Road+Rail), BD86/11, BS5400 Rail Railtrack document RT/CE/025
United States of America: AASHTO LRFD (7th and 6th Edition) and AASHTO Standard Specifications (17th Edition)
See Vehicle Load Optimisation for more details
---
Steel Design
The Steel Design software option allows design check results to be visualised as Utilisation ratios on a results viewing layer for a selected design code, and active loadcase, load combination or envelope. Results components for individual design checks can be chosen for viewing, and maximum utilisation factors can also be obtained. The following bridge design codes are currently supported:
AASHTO LRFD 7th Edition (2014) - AASHTO LRFD Bridge Design Specifications, 7th Edition, American Association of State Highway and Transportation Officials, 2014.
CSA S6-14 Canadian Highway Bridge Design Code - CSA-S6-14, Canadian Highway Bridge Design Code, Dec 2014, CSA Group.
EN1993-2: 2006 Eurocode 3: Design of steel structures - Part 2: Steel Bridges.

A tabular summary of design check results can be produced for selected members and loadcases. Results may be saved for use with Microsoft Excel or saved to a text format. Results can also be added to a model report, and each time the main report is generated the design summary data will be updated to match the current state of the model.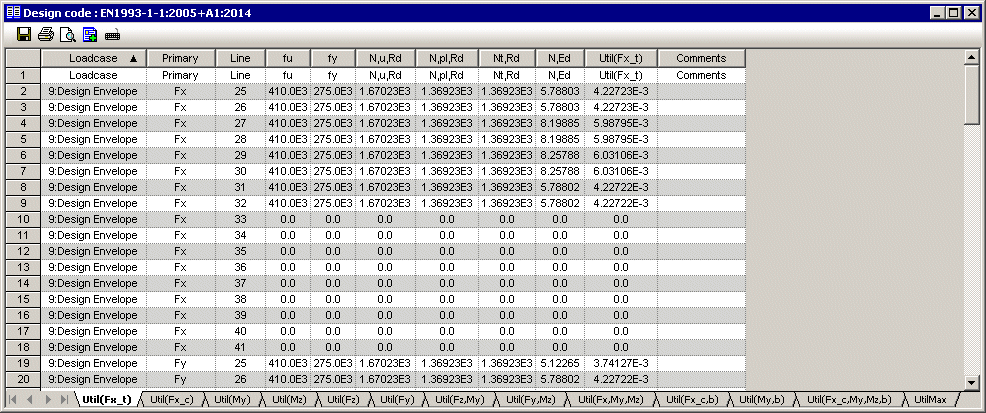 To investigate the design calculations carried out for particular members, formatted design reports can be generated, showing the calculations made and referencing clauses and equations from the code. A formatted design report for the selected member can be added to a model report.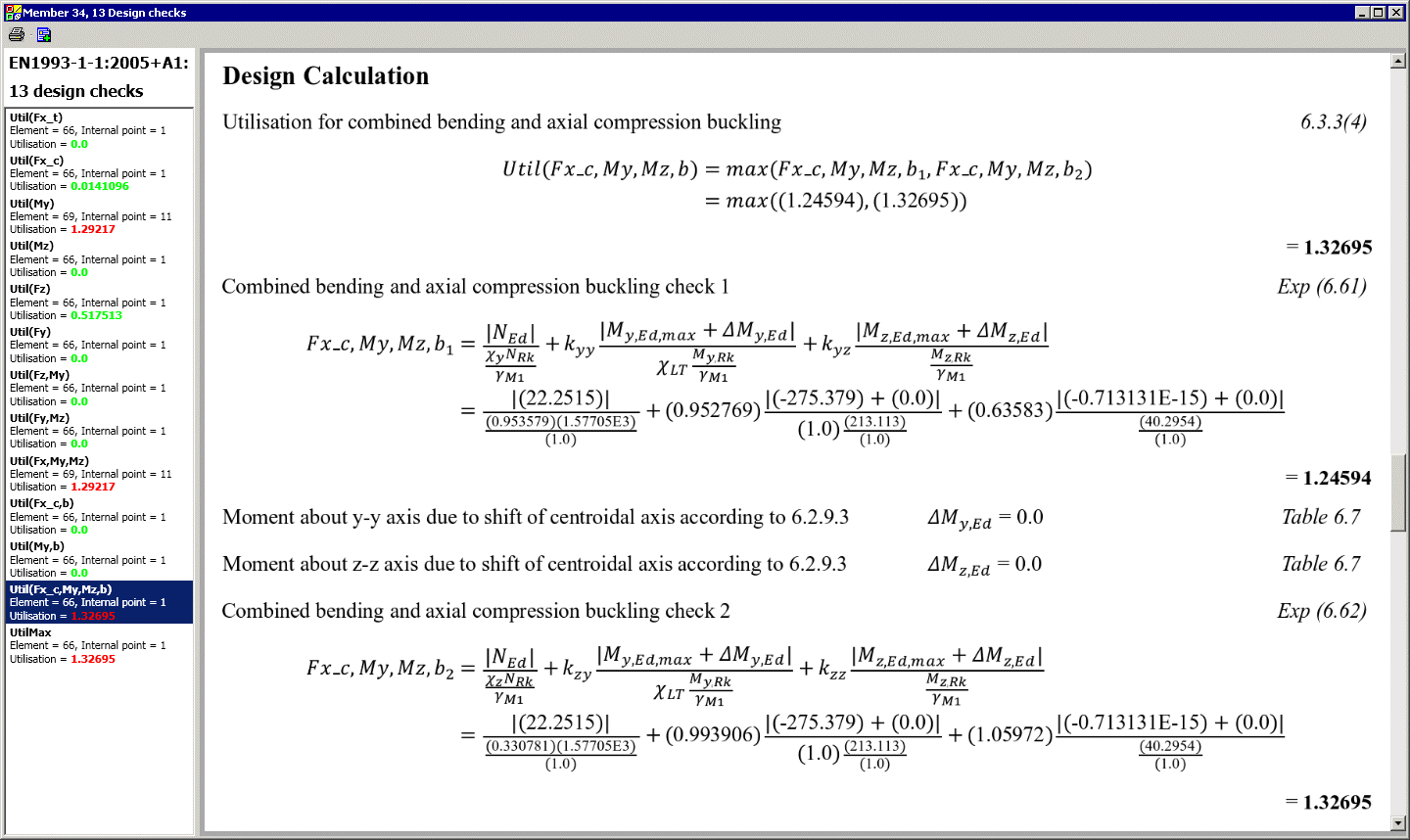 ---
Steel and Composite Deck Design
The Steel and Composite Deck Designer software option enables design checking of multiple sections on steel and composite bridge decks to the Eurocodes, allowing otherwise time-consuming and error-prone manual design calculations to be carried out efficiently.
Force and moment results for selected bridge deck elements are provided by LUSAS and loadcase combinations, defined within LUSAS, are associated with design limit states and phases defined in the Steel and Composite Deck Designer.
Within the Deck Designer:
Design calculations covering ULS bending, stress, shear and interaction; SLS stress, web breathing and cracking, and fatigue checks for main members and connectors are carried out rapidly.

Multiple sections with different properties (haunches, stiffeners, etc) can be considered.

Results, output in tabbed dialogs, visually show values that pass or fail.

Graphs and a report containing all input data and output with references to the Eurocode clauses can be easily created.
See Steel and Composite Deck Designer for more information.
---
Slab Design
The LUSAS RC Slab Designer is for use with reinforced concrete slabs (without prestressing) that are modelled using plate or shell elements. It enables contours and values that indicate flexural reinforcement requirements at Ultimate Limit State (ULS) to be plotted, and plots design crack widths at Serviceability Limit State (SLS) for those design codes that support this. Codes currently supported include:
AASHTO LRFD 7th, 6th, 5th Editions
AS5100-5-2004, AS3600-2009
BS5400-4, BS8007:1987, BS8110-1:1997 & BS8110-2:1985, BS EN1992-2:2005/NA:2007, BS EN 1992-1-1:2004/NA:2005
CAN/CSA S6-06, S6.1-06
Eurocode EN1992-1-1 and EN1992-2
IRC: 112-2011, IRS: CBC-1997
SS CP65: Part 1 and 2: 1999, SS EN1992-1-1/NA 2008 Amd 1.
---
Prestress and post tensioning

Tendon forces are calculated in accordance with:

AASHTO LRFD 2nd Edition
AASHTO LRFD 5th to 7th Edition
BS5400-4:1990
DD EN1992-1-1:1992 Eurocode 2
EN 1992-1-1:2004 Eurocode 2
JTG D62-2004

See Load types and combinations for more information.
---
Concrete creep and shrinkage
Concrete creep and shrinkage is calculated in accordance with:
AASHTO LRFD 7th Edition
CEB-FIP Model Code 1990
EN1992-1-1:2004 Eurocode 2
IRC:112-2011
Chinese model code (creep only)
---
Viewing results
---
Find out more
Software Information
Bridge / Bridge plus
Software overview
Modelling in general
Advanced elements, materials and solvers
Load types and combinations
Staged construction modelling
Geotechnical / Soil-structure modelling
Analysis and design
Design code facilities
Viewing results
Software customisation

---

Bridge LT
Software overview

---

Videos

---

Choosing Software
Software products
LUSAS Bridge LT
LUSAS Bridge
LUSAS Bridge Plus
Software selection

---

Software Options
Click to see index

---

Case Studies

---

Additional Information
Linear and nonlinear buckling analysis
Curved girder analysis
Integral or jointless bridges
Post-tensioning
Concrete modelling
Interactive Modal Dynamics
LUSAS Programmable Interface (LPI)

---

General information
Hardware specification
Licencing and Networking options
Software prices
Documentation
Links page

---