Some common questions...
Can LUSAS accommodate varying widths and thicknesses of flanges?
YES - Geometric dimensions and properties can be varied to exactly match your proposed design.

Can slab and girder connections be modelled as rigid connections; or with an interference mesh between the slab and the girder; or can individual shear studs even be modelled if thought necessary?
YES - Unlike some analysis systems LUSAS Bridge allows you to idealise your composite deck/curved girder structure in any way you wish.

Can LUSAS model areas of cracked concrete - such as may occur in regions of slabs around and over supports?
YES - The cross-sectional properties of your structure can be varied along the bridge deck.

Can LUSAS handle staged erection analysis?
YES - Elements in your model can be deactivated and re-activated to mimic the erection process and show stresses and forces induced during the construction process.

Can I load LUSAS models with arbitrary truck loading?
YES - Vehicle loading can be manually assessed or the Autoloader vehicle optimisation facility will assess worst case loading patterns for any point on your structure. LUSAS deals with this as standard.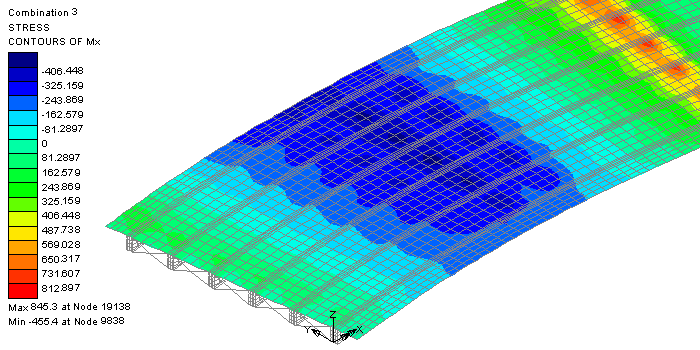 Can I isolate parts of my model for more detailed results processing?
YES - The useful group facility allows you to break down your model into named components and this allows selective display of model features or for isolated viewing of particular results.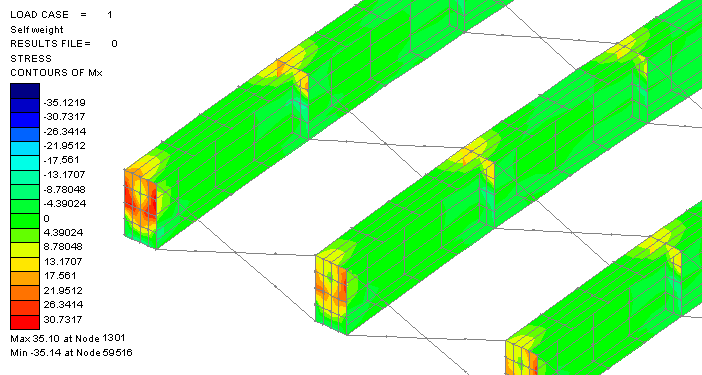 Can I slice through my model to get results at selected points?
YES - A slice section facility allows forces and moments to be obtained at any chosen location on 3D beam and shell models and is of particular use for curved girder analysis. It allows slice sections to be defined at user-specified distances along the deck or along individual girders. Slice sections are visualised, labelled on the model, and results are written to a results window for creation of force and moment diagrams if required.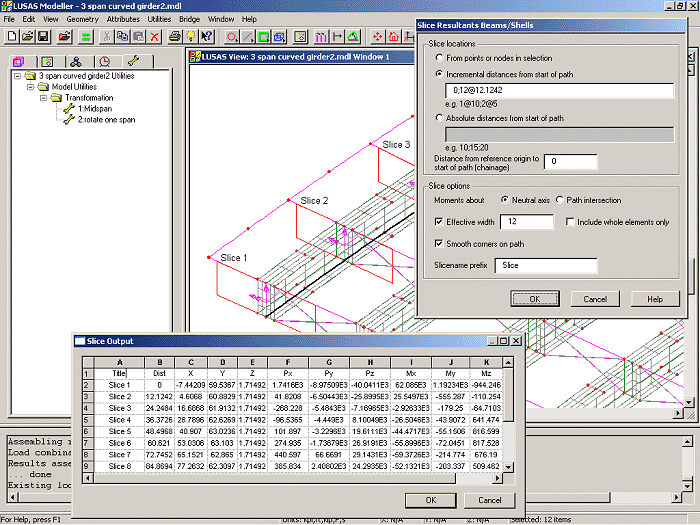 Can I see the tension and compression forces in the cross frame bracing members?
YES - Diagrams of axial force in beam elements can be easily plotted to assist you with the design of your bracing.