Software Tour
Staged construction modelling
Staged construction modelling is essential for many forms of bridge design and construction, whether it be for carrying out a detailed analysis of an incrementally launched segmentally constructed box girder bridge, modelling cable or hanger replacements for cable stayed and suspension bridges, or modelling a demolition process.
LUSAS provides you with the means to model the construction, rebuilding or demolition of your structure over time, and evaluate the effects of structural changes, load applications, and any time-dependent material changes.
The modelling process
With LUSAS Bridge, unlike some software, only one model file need be created and this can contain all of the information required to carry out an analysis of every stage of construction. The effects of geometric and material nonlinearity, and time-dependent material effects such as creep and shrinkage can all be included.
Control a complete staged construction modelling process inside the Analyses panel of the LUSAS treeview.

Use branched analyses to investigate the structural response at chosen stages.

Activate and deactivate the chosen parts of a model, and their associated element and attributes.

Carry supports forward between loadcases, or introduce or remove them to accurately represent each stage.

Produce construction history tables containing displacement history and incremental displacement results.
---
Time Management
Use the time management facility to manage a simple construction schedule and easily adjust the duration of pre-defined construction stages in a staged construction analysis. Easily and automatically update the total response time values in nonlinear and transient controls that have been previously specified for each loadcase of a staged construction analysis.
---
Staged construction with LUSAS
Model full staged construction with beams, shells and solid elements (some software only permits beams to be used)

Full activation and deactivation of elements is supported

Model any support condition and add or remove supports as required during the construction sequence

Sliding bearings may be modelled using nonlinear contact (slidelines)

Support and loading facilities including temporary/traveller loads

Apply loads anywhere onto any model

Change loading/stress/strain over time and lock- in stresses, if applicable, between stages

Prescribed displacements or jacking loads may be used as spans are completed

Time-dependent material properties include stress related concrete creep and shrinkage to CEB-FIP Model Code 1990, (and others) and includes creep recovery

Custom time-dependent curves for particular material properties and codes

Use single or multi-tendon wizards to define and assign tendon properties and time-stages to features of a model.

Steel relaxation, time effect on elastic modulus, tendon post-tensioning losses from creep, shrinkage, and superimposed loads

Cumulative effects can be reported separately for each loadcase, such as post-tensioning effects, or for the effects of just creep and shrinkage

Incremental effects can also be specified allowing you to view and assess the net changes to the structure since the previous stage.

Animation of axial forces in members during dismantling of the San Francisco-Oakland Bay Bridge East Main Span.
---
Use for
Use for all types of staged construction methods and bridge types including:
Staged placement of beams and slab for continuous structures

Cast insitu span-by-span construction of continuous beams

Precast segmental span-by-span erection

Cast insitu balanced cantilever construction

Precast segmental balanced cantilever construction

Progressive erection of precast segmental decks

Incremental launching

Balanced placement for cable-stayed bridges

Composite decks

Extradosed bridges

Suspension bridges
---
Span-by-span example
The erection of all segments for a span in a set, which is then aligned, jointed, and ultimately, usually, longitudinally post-tensioned together to make a complete span. In LUSAS, this can be modelled as a line beam model with optional fleshing of the deck cross-section to show results contours.
The animation below shows the construction sequence for the twin rib span-by-span example shown (substructure not included). The analysis can incorporate post-tensioning between stages, and creep effects as construction continues, as required.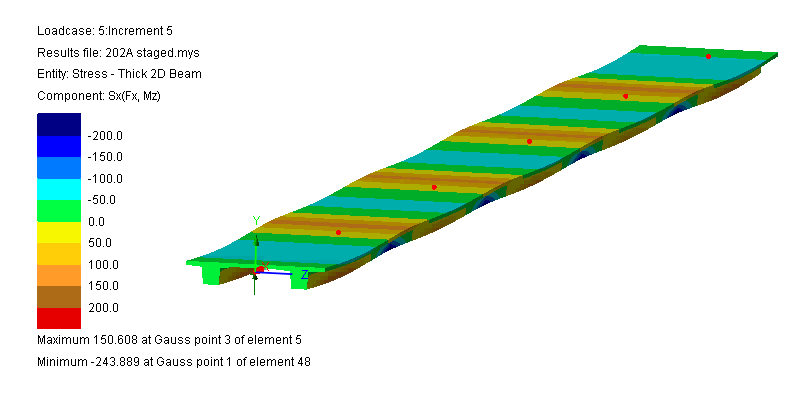 Balanced cantilever
The building of a bridge superstructure from both sides of a pier in a scales-like fashion.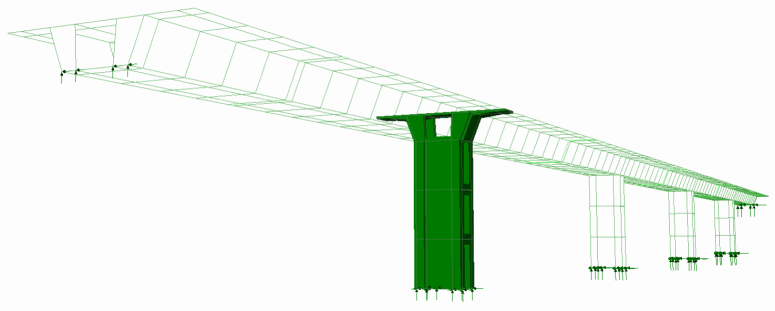 Using LUSAS, creep / shrinkage analysis can incorporate an age attribute (for precast elements) and checks on robustness can also be made as, for example, where a segment may be inadvertantly dropped by crane and where dynamic effects (impulse) are important. 2nd order (P-delta) effects could also be included.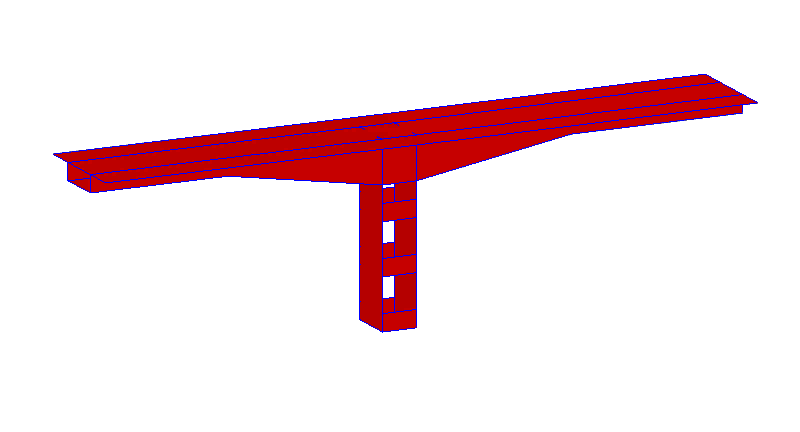 Incremental launching

Incremental launching involves the casting of a continous chain of bridge segments on-site adjacent to the actual location of the bridge and then pushing the growing superstructure out over temporary and permanent supports at the bridge's location - as used in the construction of the Blackwater Viaduct in the Republic of Ireland.

Using LUSAS, incremental launching can be carried out for both in-line deck launching, or for a curved deck launch. Modelling of incremental launching can be done by activating and moving a series of supports backwards under a model that is incrementally being added to. This can be done via general modelling facilities, or by scripting methods to automate the modelling process.
An example of this method for a box girder bridge with a simplified nose is shown below.
Curved deck launching
Click to play movie (in new window).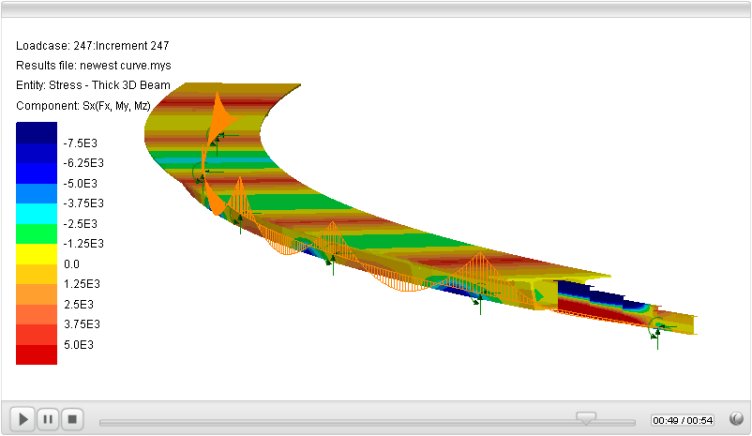 Staged Construction Modelling : Case Study
The initial proposed I95 Mississippi River Bridge was designed to be a record-breaking, cable-stayed structure linking the States of Illinois and Missouri in the USA, helping to relieve traffic on existing bridges across the river. Designed by Modjeski & Masters for its clients Missouri and Illinois Departments of Transportation, staged construction facilities in LUSAS Bridge were used to model an 800 day construction period, followed by a 10000 day period to allow for creep over that length of time.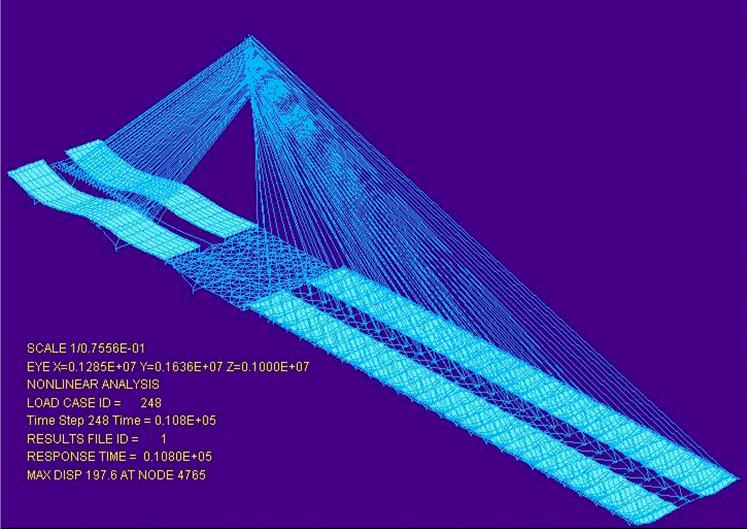 Geotechnical / Soil-structure interaction modelling
---
Find out more